Charlie Bloomer was a part of the Sacrifice Team and the Spell FX Artist for Sacrifice. He is also notable for being the owner of Clyde.
About Himself
Edit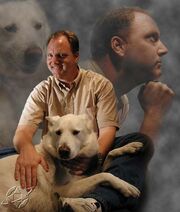 Black sheep, oddity, freak. I'm slowly growing comfortable with these terms that are used so often to describe me, at least around here. Apparently, my "activities" tend to cause some folks to question their preconceptions of just who makes software games. When I'm not working at the office (on a lunch-break for instance), I might be found surfing, or SCUBA diving, both just across the highway from Shiny. I play a mean game of croquet, and have considered expanding my skill-set to include lawn bowling.
My most recent challenge was to complete my first marathon in Cozumel to raise money for the Leukemia Society of America, and I'll be running another in Dublin in October. If I could, I'd train for those long miles with my good friend Clyde, a 10 year-old white shepherd, who accompanies me to work every day. My first undergraduate degree was in pre-medicine of all things, and I managed a restaurant for a few years before going back to school to study illustration.
After a terrific couple of years doing conventional freelance illustration, I decided I'd rather try paying my bills for a while, so in '94 I started working at Virgin Interactive, and was lead artist for a baseball game for the PC, PlayStation and Saturn. When they closed their doors, I freelanced on a 3D music video project until Shiny brought me in to art direct R/C Stunt Copter for the PlayStation in '97. And here we are. What a FREAK, huh? To make matters worse, we've just determined that I'm the "old man" of the company too. I think I need a nap...
Ad blocker interference detected!
Wikia is a free-to-use site that makes money from advertising. We have a modified experience for viewers using ad blockers

Wikia is not accessible if you've made further modifications. Remove the custom ad blocker rule(s) and the page will load as expected.