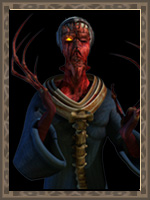 "I am Charnel, God of Strife. God of Slaughter, God of ... DEATH! Where there is pain, I am there. Where there is suffering, I flourish. Where there is joy... yes, well, one could hardly have joy without another's suffering, no?" – Charnel, The Gods Themselves (Intermission)


Charnel is the god of death. He rules over the desolate meat-islands of Stygia. His ideals for his Minions are malice and willingness to commit slaughter. His wizards are called Necromancers. His spellbook relies mostly on life stealing creatures with no natural regeneration.
Ad blocker interference detected!
Wikia is a free-to-use site that makes money from advertising. We have a modified experience for viewers using ad blockers

Wikia is not accessible if you've made further modifications. Remove the custom ad blocker rule(s) and the page will load as expected.