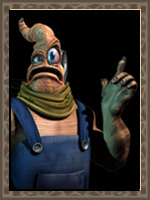 "
I am James, God of Earth. You know, rocks and soil and stuff. Some nice gems too. Oh, it's not all brown and grey you know. Just... mostly.
" — James,
The Gods Themselves (Intermission)

James is the god of earth. He rules the deserts of the Glebe. His ideals for his followers, the Yeomen, are those of peace. His wizards are called Geomancers. His spellbook relies mostly on slow, but durable creatures, while spells focus on personal protection and manipulating the battlefield.
James is the only god to speak to Eldred in two different endings. In addition to Geomancer Eldred, he also speaks to Mystic Eldred.
Ad blocker interference detected!
Wikia is a free-to-use site that makes money from advertising. We have a modified experience for viewers using ad blockers

Wikia is not accessible if you've made further modifications. Remove the custom ad blocker rule(s) and the page will load as expected.