Joby-Rome Otero was a part of the Sacrifice Team and the Art Director for Sacrifice.
About Himself
Edit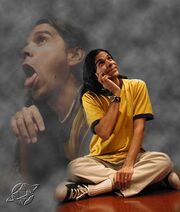 Joby Otero's professional game career started nearly 10 years ago at Cyberdreams working on a PC, side-scrolling, action game called Evolver. Darkseed (a PC graphic adventure based on the art of HR Giger), Darkseed Amiga and Cyberrace followed. In summer 1992 Joby left to join Novalogic. There he worked on Armored Fist, Comanche2, Blackfire, Iron Hammer (for Sega VR), Wolfpack CD, Liquid Metal?? (a voxel based, off-road, combat, racing game), Hard Wired and others.
Joby moved Neversoft Entertainment in late 1994. He became a partner shortly after and helped run that company for 3 years while learning about many things outside of day to day game development. While there he worked on Skeleton Warriors, Ghost Rider, Exodus and others.
In 1997 Joby joined Shiny Entertainment and has been primarily focused on Sacrifice. Sacrifice is Shiny's first multiplayer effort. Joby is responsible for creating the basic look of Sacrifice and for creating many of the individual in-game elements.
Ad blocker interference detected!
Wikia is a free-to-use site that makes money from advertising. We have a modified experience for viewers using ad blockers

Wikia is not accessible if you've made further modifications. Remove the custom ad blocker rule(s) and the page will load as expected.