Joe Virskus was a part of the Sacrifice Team and the Programmer who was in charge of the Front End & Installment for Sacrifice.
About Himself
Edit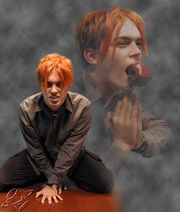 National Security Agency Dossier on Joseph Louis Virskus
---
Citizen Profile: Joseph Louis Virskus, AKA "Alvion"
Classification: Extremely Dangerous (and fantastically handsome)
Profession: Computer Programmer
Affiliation: Leader of underground group "Army of the Digital Revolution"
Employer: Shiny Entertainment
Location: It is speculated he is living somewhere in the Orange County area, but maintains residences in a number of foreign countries, including France, Germany, Japan, Iceland, Venezuela, and New Zealand.
Ad blocker interference detected!
Wikia is a free-to-use site that makes money from advertising. We have a modified experience for viewers using ad blockers

Wikia is not accessible if you've made further modifications. Remove the custom ad blocker rule(s) and the page will load as expected.