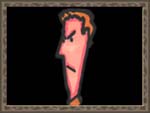 Jon Gwyn was a part of the Sacrifice Team and the Character Modeler for Sacrifice.
About Himself
Edit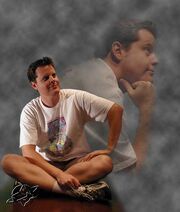 When Jon is 14 months old, his father starts him on a regimen which eventually turns him into a veritable superman.
A scientific wizard, he has developed everything from quick-growing timber trees to help the logging industry, to " a delicate brain operation," which robs criminals of their evil urges. Jon is also a brilliant musician and composer ( one of his compositions, for the violin, is considered to be one of "the most masterly of all time"), can speak at least 50 languages ( including ancient Mayan, which he uses to communicate with his team when they wish to pass secret information in public), shatters glass with his voice, can remember numbers of over a hundred digits over a period of several weeks, and possesses other amazing talents.
Only in the areas of cooking, and imitating the female voice do his abilities fall short of genius. His impressive resume includes the position of "computer artist" since 1989. His skills have been put to trial working at Cinemaware, New World Computing ( Might and Magic 4, 5, Zephyr, and planets edge) and Screaming Pink, a company started with a friend which produced Earthworm Jim 2 for Saturn and Playstation.
When asked to lend his skills to Shiny entertainment and, more specifically "Sacrifice," he gladly volunteered. Since late 97' he has been responsible for creating many of the creatures present in the game, but has never let his job interfere with his ultimate responsibility to the world and its helpless citizens.
Ad blocker interference detected!
Wikia is a free-to-use site that makes money from advertising. We have a modified experience for viewers using ad blockers

Wikia is not accessible if you've made further modifications. Remove the custom ad blocker rule(s) and the page will load as expected.